West Coast Wedding Q&A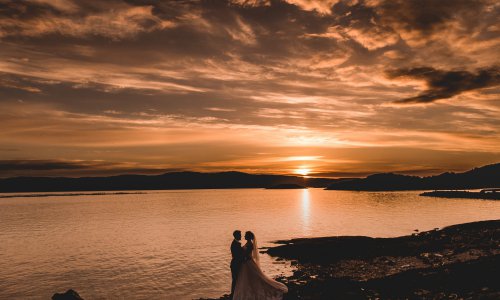 We hope you have all enjoyed our Wedding Week over the last 7 days. To round off the week here is our Events Manager, Robbie, answering all the questions you have sent us over the last week.
Q: Is it cheaper to get married midweek?
A: It can be. We do not solidify midweek rates, however we would be happy to discuss bespoke packages tailored around you. Getting married midweek gives us a little more flexibility on rates and allows us to create individual packages.
Q: How many guests can you sleep in total?
A: We can sleep a total of 128 guests in bedrooms based on double occupancy, some of our accommodation is flexible, however, and can include additional guests.
Q: I've had a look at your brochure, can you tell me a little more about your packages?
A: Our most popular package is the Loch Fyne package. This package was designed to make sure planning your wedding was as easy as possible. It is designed to be used for guest numbers between 60 and 120 and makes use of the Baird suite which sits at the heart of the marina and is our permanent marquee.
The Barclay package was created to make use of our fabulous event spaces in our Spa and Leisure building. The Barclay Suite boasts beautiful views over the marina and is perfect for weddings up to 60 guests.
The newly launched Lodge package was designed to reflect the trend in smaller more intimate weddings. The Lodge Kitchen and Bar has been a favourite of guests since it's opening and makes the perfect venue for weddings up to 30 guests.
Q: How would I enquire about my wedding?
A: There are numerous ways you can get in touch, there is a great deal of information on our website under the Weddings tab, after referring to this you can email events@portavadie.com or call me [Robbie] directly on 01700 811075, where we will be able to chat through your requirements and guide you through what we can offer.
Alternatively, if you are here in the local area please do pop in and one of our members of staff will be able to show you around and run through the wedding packages with you.
Q: How far in advance to you need to book your wedding?
A: We recommend no less than three months prior to, but depending on the simplicity of your event 2 weeks can be fine.
Q: What are my options if I want a wedding for under 10 people?
A: Again this gives us an opportunity to put together a bespoke package for you. Ceremony options are bountiful, after tying the knot enjoy a glass of champagne, followed by a lovely dinner in our 2 AA Rosette awarded Marina Restaurant and Bar - where we can arrange the perfect table for you.
Q: Do you have a maximum number of guests?
A: 120 for seated guests, but we can accommodate more evening guests.
Q: We would be traveling from across the UK, are there options to entertain our guests for a full weekend?
A: Portavadie is the perfect destination for your weekend wedding. Have your guests arrive on the Friday night and make use of our Spa and Leisure Building. On the Friday evening host an informal Meet and Mingle in one of our event spaces, with a variety of dining options. My personal favourite is a Pizza and Prosecco Party!
On the Saturday enjoy a leisurely morning before your wedding, make the most of this time to relax, book spa treatments, go for walks, etc. Then have your breakfast in the Marina Restaurant. Let the celebrations begin from the Saturday afternoon until the wee hours of the morning.
Assuming guests will be up a little later than normal on the Sunday, why don't you organise a private brunch for your guests and make use of our onsite activities to re-energize your guests from the night before, i.e. orienteering, bike hire, etc.
Q: What makes Portavadie special?
A: Portavadie offers you a contemporary venue for a traditionally Scottish West Coast wedding. It makes use of a variety of stunning spaces and accommodation, dine in style with 2 AA Rosette awarded cuisine and celebrate in a unique way with all your friends and family in one place.
To enquire about having your wedding at Portavadie please email events@portavadie.com.