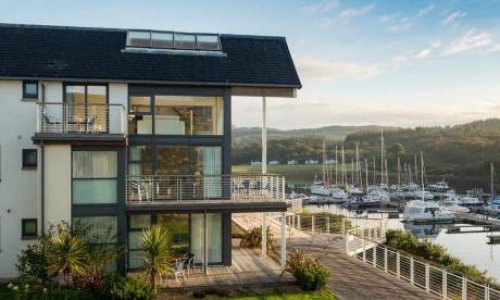 Portavadie`s Care Commitment and Facilities Update
Our commitment to your safety and wellbeing
The global outbreak of Covid-19 has had a significant impact on how we will travel, move, meet and socialise in the near future. At the outset, our response to this crisis was one of protection and togetherness, ensuring that the health, safety and wellbeing of our guests, our amazing crew, suppliers and local communities remained our number one priority, and that our Resort remained secure and well-maintained, ready for when you, our valued guests, could safely return. That determination to welcome you once again has been the driving force behind our Crew having reshaped certain aspects of our business to ensure that you can enjoy your Portavadie experience comfortably, and safely, as travel and social restrictions ease. We know that the criteria for booking your next break is likely to have changed, and when choosing to stay with us, we can assure you that your priorities regarding social space, cleanliness, care and enjoyment are also at the top of our priority list. We take this responsibility very seriously and as such, we have developed a set of measures designed for everyone's comfort and safety, and to help put your mind at ease. As a result of these measures, you will notice that some areas within our resort may look slightly different, yet the welcoming, family-feel of Portavadie remains, as ever, unaltered. The commitments we outline here may and will evolve as we continue to navigate this journey with any new recommendations and guidance that come to the fore. Fundamental to all of this, however, is ensuring that when you are ready to return or visit Portavadie, you are, and feel, safe. We look forward to extending a very warm welcome to you, soon.
Enhanced Cleaning
Enhanced cleaning and sanitising protocols in line with government guidelines, using certified products from leading suppliers. Our cleaning processes have been upgraded and rigorous sanitisation procedures continue to be carried out by our teams throughout our resort, including public areas, bedrooms and our spaces behind the scenes. You will find hand sanitisers for use on arrival and at various locations throughout the resort.
Flexible Reservations
Flexible shore side reservations with no quibble cancellations should plans change. We have amended our reservations policy to offer fully flexible bookings with no quibble cancellations should your plans unexpectedly change due to Coronavirus. For guests who have made reservations directly with us prior to 25th June 2020 you will receive a 20% discount on your Bed and Breakfast Accommodation Rate, which will be applied to your reservation should your stay dates be affected by Spa and Leisure closer due to Government Guidance, (this excludes 3rd Party bookers such as Booking.com or Expedia).
Self catering only 4th-14th July - bookeable now!
We are thrilled to advise we will have Self Catering only rates available to book direct only 01700 811075 or email here from Saturday 4th July - Tuesday 14th July, minimum of 2 night stays apply. Please note the on site Shop and Takeaway food and drink, form the Marina Restaurant and Bar will only be available in line with government guidance.
Social Distancing
Safe spaces and social distancing with signage designed to safely guide and direct. We have established safe social distancing practices, using the appropriate markers and clear signage to help guide our guests and our teams to move safely. With our many buildings and unique spaces, we have made the best use of areas and outdoor terraces, patios and grounds, so that you will feel comfortably distanced from other guests whilst relaxing and enjoying the surroundings.
Dining Options
From Saturday 4th July - 14th July The Marina Restaurant and Bar will offer a takeaway service with outdoor seating available, from midday daily until 9pm.
From Wednesday 15th July The Marina Restaurant and Bar will be open daily from 8am-late, for Breakfast, Lunch and Dinner with a varied menu to suit all.
Guests will be required to book their meal times to enable physical distancing. Tables will be limited to no more than 8 guests on any one table. In our restaurant and lounges we will offer table service only, to avoid you having to approach the bar and reduce the amount of contact with our team. We will also be offering a takeaway service for breakfast, lunch and dinner and drinks. Menu`s will all be available on our new Portavadie App launching soon. The Lodge Kitchen and Bar and Café will remain closed initially due to reduced business levels. Our on site shop will also have an increased availability and range of provisions.
Personal Health
Personal health and safety responsibility requirements for our teams and our guests. Our team members, guests and visitors each have a vital role to play in keeping themselves and those around them, healthy. Our teams are receiving ongoing training regarding standards of cleanliness, health and hygiene and are complying with strict protocols including frequent hand washing, and the use of PPE where appropriate. We ask you to be responsible, and not to come to Portavadie if you feel unwell.
Spa and Leisure
Spa and Leisure facilities remain closed in line with Government guidance. These will be kept under constant review and will open again when guidance allows.
Stay Safe