Portavadie is the Perfect Place by Rach Thomson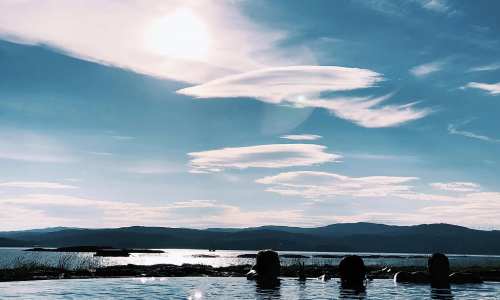 Portavadie is the Perfect Place - by Rach Thomson
"If you are looking for a short break where you want to relax, enjoy good food and be surrounded by nothing but beautiful views, Portavadie is the perfect place. When I say you're surrounded by nothing else but the West coast of Scotland, I mean it, there is literally nothing else there. However, Portavadie is a gorg complex with a Spa, various dining spots, plenty outdoor activities and endless views from the Marina and outdoor pools (everything you really need).
Starting with the Spa, which was probably the highlight of my stay because I've never really been anywhere like it. You experience the usual 'Spa Day' luxuries such as the hydration pool, steam room/ sauna and roaming around all day in a dressing gown. But the views and outdoor areas made this Spa experience so special and different to anywhere I've ever been before. Scroll down and look where you get your nails done!!?? I don't think I've ever gone for shellac and had a view like that.
Not only was the spa amazing but the food was too! There's plenty options for food at Portavadie including the Marina Restaurant and Bar, the Lodge Kitchen and Bar and the Spa and Leisure Cafe. I know that's only three restaurants, however all menus will cover exactly what you feel like to eat. The Marina Restaurant is a little more fancy with plenty seafood and steak dishes whereas the Lodge Kitchen is more relaxed with loads of tasty food options (I'd defo recommend the side of onion rings xx). The Spa and Leisure Cafe is perfect for a snack that you can enjoy in the outdoor seating area as well as breaking up your Spa Day.
After a full day at the Spa we got ready and headed to the Lodge Kitchen for dinner, where we had great starters and mains and I should also say their cocktail list is plentiful- stun variations of G&Ts. I'm sad to say that I was far too full for desert but I'm sure the choices tasted as good as they sounded!
My favourite thing about staying in hotels is the breakfast and my breakfast at Portavadie did not disappoint!! The next morning we enjoyed a complimentary breakfast at the Marina Restaurant which included a continental breakfast, cooked breakfast, pastries, cereal... the list goes on. Admittedly I was way too excited and ate my cooked breakfast before taking a pic (soz my empty plate is in the top corner), so here's one of my second course. I should also say the staff where AMAZING, just so kind and helpful and made sure everything was perfect to the point of constantly filling up your tea/coffee and juice!
Overall, the views were honestly unreal and definitely made Portavadie such a memorable and unique place to visit. The infinity pool and jacuzzi's outside where definitely the hotspots for the best view and I promise it looks even more amazing in person. I should also add there is a gym (that I SHOULD have used) with views right over the Loch which probably makes running on a treadmill way more enjoyable. Anyway, I hope you enjoyed this blog post and below are just some more scenic pics because I couldn't get enough of the views at Portavadie!"
Head over to Rachel's blog to see more of her stunning pictures!