Portavadie is Reopening to Non Residents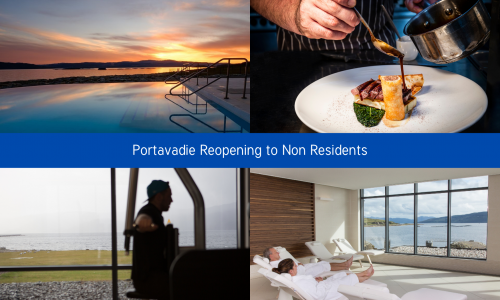 Firstly, thanks so much for your patience, we have missed you!
We feel like things are starting to get back to normal for us (or as normal as they can be at this time!), so we are happy to announce that we are able to open again to non-residents and we have decided to trial a winter monthly membership pass, please see details below!
Reopening our Spa and Leisure Experiences to Non Residents
- From Monday 1st November 2021 we are reopening our Spa and Leisure Experiences to non-residents
- 90 minute sessions available to book (please pre-book in advance)
- Leisure slots available 7 days between 10am and 4pm, subject to availability
- Prices are as follows:
- Adult - £12
- Concession - £8
- Child 5+ - £5
- Spa Experience access available with treatments
Adult Monthly Winter Membership Pass
- Available until end of March 2022
- Includes use of Leisure Experience and gym (slots must be pre-booked)
- Special offer price of £30 per month
- No onsite discounts available
- The membership is valid from the first day of the month until the last day of the same month and can't be carried forward to the following month
- The membership will not be automatically renewed at the start of new month
- There will be no refund for unused memberships
- These memberships are subject to availability
To book any of the above please email spaandleisure@portavadie.com
Reopening our Marina Restaurant to Non Residents
- Our Marina Restaurant and Bar is now open to non residents, subject to availability, please prebook your dining times online here.
Again, thank you to everyone for their patience over the past months, closing was not an easy decision to make and thank you for being understanding. We can't wait to see you again soon!
Access will be kept under review seasonally and may be subject to seasonal variation.