Portavadie is a Living Wage Employer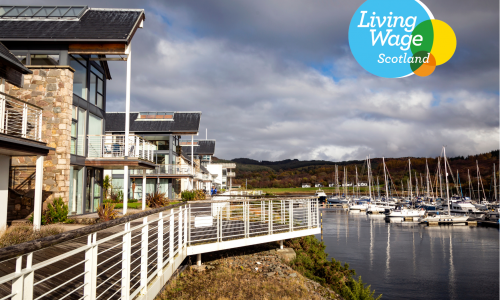 We are delighted to announce Portavadie has become accredited as a Living Wage employer. The Living Wage commitment ensures employees of any business receive a minimum hourly wage of £9.50 in the UK. Portavadie has gone a step further and ensures all our employees (18 and over) are on a minimum of £10 per hour. The current mimum wage *17/9/2022 for 18 year olds is £6.83.
In Scotland, more than 15% of all jobs pay less than the real Living Wage - around 350,000 jobs. Despite this, Portavadie has committed to pay the real Living Wage and deliver a fair day's pay for a hard day's work.
The real Living Wage is the only UK wage rate calculated according to the costs of living. Employers choose to pay the real Living Wage on a voluntary basis, recognising the value of their workers and ensuring that a hard day's work receives a fair day's pay.
Since 2011 the Living Wage movement has delivered a pay rise to over 45,000 people in Scotland and put over £240 million extra into the pockets of low paid Scottish workers.
Iain Jurgensen, Portavadie Loch Fyne`s Managing Director is very clear in the decision to go further than the existing Living Wage commenting: "Our people are the most important investment we can make here at Portavadie. They deliver the magic and without their passion and pride we simply would not have a business. Hospitality is now being recognised for the part it plays in all of our lives - providing the experiences, delivering the warmest of welcomes, the beautifully prepared food, the crispest of bed sheets and the most luxurious of spa treatments. We must ensure the rewards for choosing a career in hospitality deliver on many levels, of which pay is a very important one, along with many other benefits we offer including free gym and leisure membership and fully funded learning and development opportunities, as well as affordable staff accommodation for those that require it. We will continue to look at ways to ensure our people sit at the heart of all we do here Portavadie and continue strive to recognise their value to the Guest Experience."
Connor Nichol, Front Office Receptionist said: "The living wage increase has been an incredible change, I remember reading the email that stated our wages had increased to £10 per hour and I screamed in my mum and dad's kitchen! After 6 years in hospitality, starting my first job on £5.65 per hour, I finally felt I was being treated as an equal, I was being helped to be able to make big life decisions like buying a nicer car or saving up for a deposit on a house. It truly is life changing, I have chosen this as my lifelong career and I love working in the hospitality industry, it gives me an immense feeling of pride and fulfilment in my day-to-day life, having a wage increase makes it even more special. It helps us as the small cogs feel we are valued as part of the bigger machine that is a hotel or a resort. It makes you feel like you want to go the extra mile to help your employer and give great guest experiences.
Peter Kelly, Director of The Poverty Alliance said: "Too many workers in Scotland are in the grip of poverty and employers choosing to pay at least the real Living Wage can loosen that grip. Payment of the real Living Wage allows those in work to become more included in society, better meet their everyday needs, and feel that their value and hard work is recognised by their employer. Congratulations to Portavadie on their Living Wage commitment, and I hope more organisations follow their lead by becoming Living Wage accredited."
Lynn Anderson, Living Wage Scotland Manager said: "We're delighted that Portavadie has become an accredited Living Wage employer. They join a growing movement of over 1900 employers in Scotland who together want to ensure workers have what they need to thrive."