Water Wellness Experiences to Enjoy at Portavadie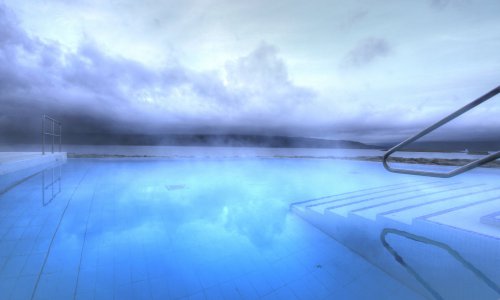 At Portavadie, we're lucky to be surrounded by some of Scotland's most picturesque water. Nestled on the bay of Loch Fyne, we have some of the most breathtaking views in Scotland. With our own Five Gold Anchor award-winning marina, we are quite literally the gateway to your water wellness journey.
The wellness benefits of water have come to light in recent years and, in a time where we are surrounded by technology, it's good to escape and enjoy one of the most natural things on earth: water. I'm sure we're aware of many uses of water, but what about well-being? With the help of VisitScotland, here are a few of the ways you can immerse yourself in water wellness when visiting Portavadie.
Relax in our infinity pool
Our infinity pool is undoubtedly one of our biggest attractions, and it is easy to see why. The pool is the largest outdoor infinity pool in Scotland and offers unmatched views of the loch and landscape behind. Immerse yourself in the benefits of outdoor swimming without having to brave the freezing temperatures of the loch below.
If you're travelling with the little ones, we have plenty of splash-happy swimming experiences to enjoy. Our toddler's pool with water features is the perfect place to tire the kids out before heading back to the room.
Sailing on the loch
Not only is our award-winning marina a breathtaking view of itself but, it also offers our guests the opportunity to dock up their vessels and explore Portavadie.
Even if you don't have your sea legs, watching the boats roll in can be an excellent way to improve your well-being.
Delicious seafood at our Marina Restaurant and Bar
No guide to water wellness would be complete without mentioning Scottish seafood. Enjoy waterfront dining at our Marina Restaurant and Bar and watch the yachts sail by with our floor-to-ceiling glass. Our restaurant offers some of the freshest seafood the area has to offer, all of which is skillfully prepared by our expert culinary team.
Before you head to your room for the night, why not watch the dark sky rolling over Loch Fyne while you dine on some salmon, or go hearty with some Portavadie fish and chips?
Get a taste of the water, right by the water.
Ready to book your stay and immerse yourself in water wellness? Book today.