The Crew Board Loch Lomond Seaplane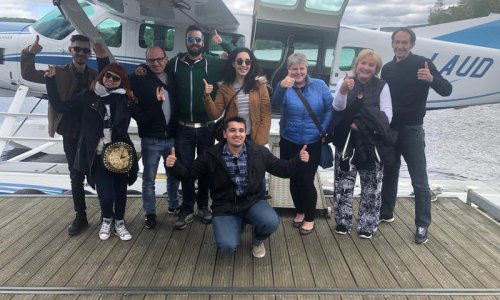 All aboard the seaplane! Following from @portavadiecareers raffle, 9 team members won the opportunity to experience Loch Lomond Seaplane. The Careers & Events team organised breakfast, pack lunches and their travel to Loch Lomond from Portavadie.
Raul was the designated driver, while the other 7 members got to take in the views on their scenic drive there. Stephen was the 9th team member and as he lives close by, he met them there.
Careers, Events and the Managing Director were down in the restaurant with the team while they had their breakfast before heading off. All were excited, and a bit nervous for their first seaplane experience!
We all assumed they had arrived safe, and were happy flying in the sky, because they were spotted circling Portavadie a good few times. When we asked if they saw us waving, they said no, obviously too busy enjoying themselve :-)
When the team returned they were telling us all about it, and showing off their pictures. Here's a little bit from Anne:
"We had a great day out with the Portavadie Team on the seaplane, Raul picked Carol and myself up at the Kames Crossroads, took us over to Portavadie for bacon rolls, tea & coffee before we all boarded the MPV and headed for Loch Lomond. The Seaplane was amazing we were out for approx. 1 hour and flew over Portavadie it was a clear day and you could see for miles. When we landed we were given a glass of Prosecco and had a packed lunch provided by Portavadie."
Stephen was at the front of the plane, acting the co-pilot, well if you knew Stephen you would know he would of been the first to put himself forward for that role!
Anyway, although many of us were left at Portavadie feeling very envious, the 9 lucky team members had an absolutely fantastic experience.
On behalf of Portavadie and the team we would like to thank @LochLomondSeaplanes for their incredible hospitality and the experience that was provided to our own crew!
#lochlomondseaplanes #seaplane #portavadiecareers #teaminflight
https://www.lochlomondseaplanes.com/book-seaplane-tour-flights