Go Explore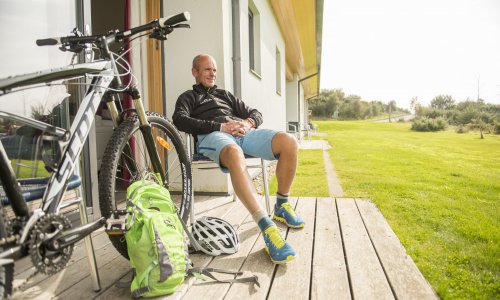 We have ancient forests, beautiful beaches and an incredible coastline right on our doorstep. So, grab your backpack and go explore. Whether you fancy a coastal stroll or an epic cycle, there are so many things to see and do. And while you're out and about, look out for wildlife, including deer, buzzards, otters, golden eagles, red squirrels and more. You'll also find that the area is rich in Highland history and dotted with ruins and ancient sites.
One of my favourite local walks is through Glenan Wood. This lovely ancient oakwood is right next to Portavadie. There's a way-marked trail that takes you though the woodland to Glenan Bay and back. If you're feeling fit, you can carry on up the forest path to an old deserted village. The paths are very boggy and wet underfoot, so walking boots or wellies are definitely recommended!
Another walk that you can do directly from Portavadie is the Stillaig Bay Loop. This is one of my favourite walks, with standing stones, a beach and stunning views of Arran. Follow the path over the headland past the standing stone to Stillaig Bay. A narrow isthmus separates two shallow bays, which are both great places to beachcomb at low tide. When you've finished exploring, pick up the farm vehicle access path and complete the loop back to the Portavadie road.
Other walks locally include Ostel Bay. This is a short drive (or cycle) away. Park your car in the big lay-by at the side of the road and from here it's a fifteen-minute walk to the beach. This is a good walk for kids. It's not too far and is fine for off-road buggies. On a sunny day it's a fabulous place to spend the day paddling, sun-bathing and swimming. On the way back stop at the Kilbride Farm Pop-up Café for coffee and cake.
If you'd like to go to a beautiful remote beach, but don't fancy the walk, Otter Ferry is a great option. Park at the Oystercatcher, a lovely pub/restaurant that sits right on Otter Bay. You can walk along the bay to the spit. And if you'd like to see some art while you're out and about, head over to Colintraive. You can walk along the coastal road here, visit the community garden and then take a stroll around Caol Ruah Sculpture Park.
If you're looking for a family cycle ride, then I'd recommend the Ardlamont Loop. This ten-mile trail spins you along the quiet coast road. There are some hills, but the views are well worth the effort. If you'd like to go off-road, then try the forest tracks behind Portavadie. You can do a loop that will take you past the ruined Ascog Castle and back onto the road to Portavadie.
If you'd like to strike out further afield, then hop on the ferry and cross the water to Tarbert on Kintyre. This bustling fishing village is a great place to spend the day. You can walk up to the ruined Tarbert Castle and enjoy the views. The Kintyre Way starts here. If you're feeling adventurous you can walk to Skipness all the way from Tarbert via the first section of the Kintyre Way. If you time it right, you can catch a bus back to the ferry at Tarbert. Skipness is a beautiful spot on Kintyre's east coast overlooking Arran, with a castle, chapel and wonderful Seafood Cabin.
Another great place for walkers and cyclists is the island of Bute. It's just a short ferry ride from Colintraive. Discover great beaches, lovely walks and Victorian architecture on this gem of an island. Dunoon is also well worth exploring. The town is surrounded by large tracts of forest which offer great mountain biking and walking. Puck's Glen is a magical woodland world. With its moist shady undergrowth and enchanting gorge, it's a really atmospheric place. Benmore Botanic Garden is a magnificent mountainside setting and has a world-famous collection of flowering trees and shrubs including over 300 species of rhododendron.