Summer Monthly Leisure Membership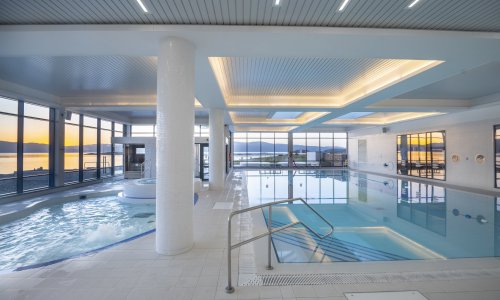 Summer Leisure Membership - available from 1st April – 31st October 2022!
Adult 16+ - £45 per month (gym and swim)
Junior 5-15yrs - £25 per month (swim only)
Joint Membership - £80 per month (gym and swim)
Family (2 adults and up to 3 kids under 16) - £100 per month (adults - gym and swim, kids - swim only)

To sign up please come and see us at the Spa and Leisure reception, if you have any questions please email spaandleisure@portavadie.com.
T&Cs:
The membership is valid from the first day of the month until the last day of the same month and can't be carried forward to the following month.
The membership will not be automatically renewed at the start of new month.
No onsite Discount available.
There will be no refund for unused membership.
Any pool or gym entry must be pre-booked and is subject to availability.
Towels are provided.
The infinity pool level may vary seasonally.
Portavadie reserve the right to restrict access to the facilities for planned maintenance or health and safety of our guests.
Portavadie reserves the right to amend access timings without prior notice.
Adult/child ratios apply – children under age of 16 must be accompanied by an adult (over 18yr) at all times in the Leisure Experience.
You must be over 16yr to access and use the gym.
We are also re-opening our Spa Experience, £20 per person for 2 hours access from Monday 14th March...it's time to relax! To book please email spaandleisure@portavadie.com.